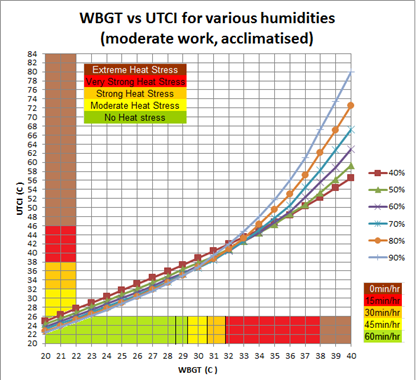 UTCI vs WBGT
WBGT is a heat index based on temperature, humidity, wind speed and solar radiation data that has been collected over a long period of time. The WBGT index can then be interpreted using ISO 7243 to work out the maximum time that can be worked under those heat conditions.



WBGT(C)
0min/hr
15min/hr
30min/hr
45min/hr
60min/hr
Top row: minutes per hour it is safe to work for those heat conditions. The bulk of the table is WBGT in C. The left column is work rate in watts. This is for acclimatised workers only; for the full ISO 7243, visit the ISO store.
200W
40
32.4
31.9
31
30.8
300W
37.1
31.8
30.6
29.3
28.6
400W
36
31.2
29.6
27.9
26.8
The graphs on the right and below, relate the different heat indexes to WBGT with the work limits shown for 300W work. For further graphs and more details on how they were derived, see Temperature 2016 (to be published). UTCI is the Universal Thermal Climate Index, developed and used mainly in Europe, ESI is the Environmental Stress Index, AT is the Apparent Temperature as defined by the Australian Bureau of Meterorology and Humidex is the index commonly used in Canada.





E

SI vs WBGT


A

T vs WBGT


H

umidex vs WBGT